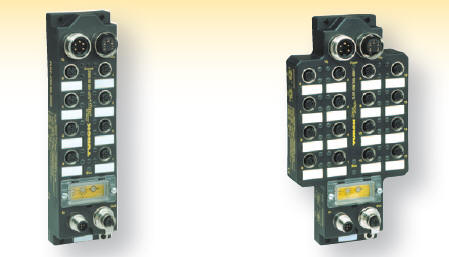 Up to 16 I/O Up to 32 I/O
Profibus DP Junction Boxes provide multiple secure and reliable field connections for Profibus DP input and output devices. They are available in 3 different types with two styles of housing (above) which accommodate up to 16 or 32 I/O per module. These are compact robust IP67 modules made from reinforced GRP, vibration and shock-resistant with fully encapsulated electronics. Power is fed and looped on via 7/8" connectors (top) and the Profibus DP bus is connected and looped on via 5-pole, reverse-keyed M12 connectors (bottom). I/O are connected using M12 connectors (centre). The I/O connectors can be used for 1 or 2 I/O thus achieving up to 16 I/O with 8 connectors and 32 I/O with 16 connectors.
Type FXDP
Channel specific diagnostics, mappable to user data area, up to 16 channels.
Type
Ident No
No of Inputs
No of Outputs
FXDP-IM8-0001
6825400
8
0
FXDP-IM16-0001
6825401
16
0
FXDP-OM8-0001
6825402
0
8
FXDP-OM16-0001
6825403
0
16
FXDP-IOM88-0001
6825404
8
8
FXDP-CSG88-0001
6825405
8
8
FXDP-XSG16-0001
6825406

All 16 channels configurable as Input or Output
Note: IOM Models have Input connectors on one side, Output connectors on other side of module
CSG Models use each connector for 1 Input and 1 Output.
Type FGDP
Channel specific diagnostics, mappable to user data area, Galvanic Isolation of operating and load voltage
| | | | |
| --- | --- | --- | --- |
| Type | Ident No | No of Inputs | No of Outputs |
| FGDP-IM16-0001 | 6825368 | 16 | 0 |
| FGDP-IOM88-0001 | 6825369 | 8 | 8 |
Type FLDP
Module specific diagnostics with up to 32 channels
| | | | |
| --- | --- | --- | --- |
| Type | Ident No | No of Inputs | No of Outputs |
| FLDP-IM8-0001 | 6825320 | 8 | 0 |
| FLDP-IM16-0001 | 6825326 | 16 | 0 |
| FLDP-IM32-0001 | 6825330 | 32 | 0 |
| FLDP-OM8-0001 | 6825321 | 0 | 8 |
| FLDP-OM8-0002 | 6825331 | 0 | 8 |
| FLDP-OM16-0001 | 6825327 | 0 | 16 |
| FLDP-IOM84-0001 | 6825330 | 8 | 4 |
| FLDP-IOM88-0001 | 6825322 | 8 | 8 |
| FLDP-IOM88-0003 | 6825370 | 8 | 8 |
| FLDP-IOM1616-0001 | 6825338 | 16 | 16 |
| FLDP-IOM2012-0001 | 6825339 | 20 | 12 |
| FLDP-IOM248-0001 | 6825333 | 24 | 8 |
Meaning of Type Code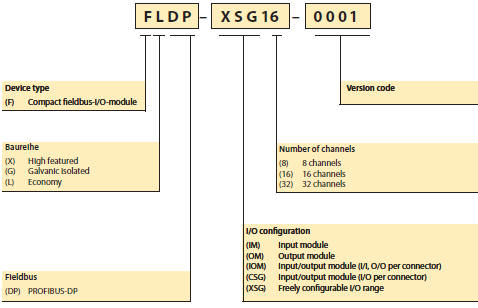 Product Dimensions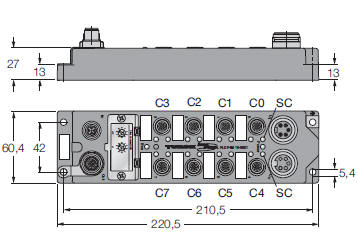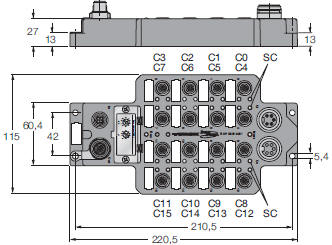 Up to 16 Channels Up to 32 Channels