A two or three wire cable is prescribed by IEC 61158-2 as the transmission medium for transferring energy and data. Electrical data and permissible cable types are not prescribed. Cable parameters determine the achievable fieldbus properties such as the distances that may be covered, number of connectable stations and electromagnetic compatibility. The following 4 Types are available: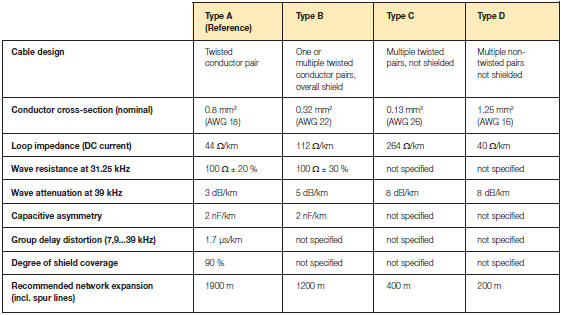 NOTE: Cables conforming to the minimum requirements of type A, should be used for new installations. Cable types C and D should only be used in so-called "Retrofit Applications" (usage of cable already installed) involving only very limited network extensions. It is necessary to consider that in these cases the immunity to interference during data transmission may not meet the demands described in the standard.

Maximum cable lengths:

The sum of main cable lengths and all spur line lengths results in the overall cable length, as already defined in Tab. 1 as the network expansion (see Tab. 3).

Maximum spur cable lengths:

Depends on the number of field devices per spur line and is listed in Tab. 4.