Receptacles -Bulkhead Connectors for Profibus PA

These receptacles allow installation of a connector to the external surface of an enclosure. They are best suited to enclosures where terminals are close to the connector, unless extended cable tails are ordered. The standard cable tails supplied are 0.3m long. All are 4 core x 0.8mm˛ with a flexible shield /drain wire. They are available in male or female to suit 7/8" and M12 connectors. The housing material of the receptacles is stainless steel.
Other connectors are available with solder connection or with longer cable tails.
Profibus PA Receptacles/Bulkhead Connectors
Type
Ident No
External Connector Size
Gender
Bulkhead Thread
Drawing
RSFV48-0,3M/14,5/C1117
6611022
7/8"
Male
1/2-14NPT
1
RKFV48-0,3M/14,5/C1117
6611023
7/8"
Female
1/2-14NPT
2
RSFV48-0,3M/M20/C1117
6603617
7/8"
Male
M20
3
RKFV48-0,3M/M20/C1117
6603610
7/8"
Female
M20
4
FSV48-0,3M/14,5/C1117
6611024
M12
Male
1/2-14NPT
5
FKV48-0,3M/14,5/C1117
6611025
M12
Female
1/2-14NPT
6
FSV48-0,3M/M20/C1117
6611026
M12
Male
M20
7
FKV48-0,3M/M20/C1117
6611027
M12
Female
M20
8
Male Pin Connectors Female Pin Connectors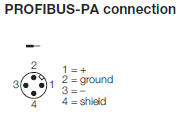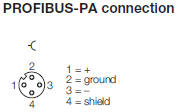 Drawings
1 2 3



RSFV48-0,3M/14,5/C1117 RKFV48-0,3M/14,5/C1117 RSFV48-0,3M/M20/C1117
4 5 6



RKFV48-0,3M/M20/C1117 FSV48-0,3M/14,5/C1117 FKV48-0,3M/14,5/C1117
7 8


FSV48-0,3M/M20/C1117 FKV48-0,3M/M20/C1117